How Reviews Help Google Business Profile Rankings
It's no big secret that Google reviews are super important when it comes to converting online leads for your business. People work hard for their money and prefer to buy from businesses they trust.
That's where online reviews come into play… and further still, Google reviews. According to a survey conducted in 2021, a staggering 81% of consumers said they read Google reviews, which is a 20% increase from the year prior. Data also shows that consumers are willing to spend around 30% more on a company with positive reviews. So, it's safe to say that personal recommendations are huge in the world of sales, and it's important to capitalize on them in the form of Google reviews.
However, many people don't understand all the different considerations when it comes to Google reviews or how to properly use them to best enhance online presence. Getting lots of multi-star reviews on platforms like Google and Yelp will help convert your web visibility into actual leads or sales, but how does this actually work? In this article we're going to talk about a different way to use reviews to help optimize your Google business profile.
How do a Google Business Profile and Google Reviews Work?
Often, when potential customers are doing a local search or shopping online, Google's local SEO will first search for a business name or names and any associated Google Business profiles. So, for example, say you're looking for a local nail salon. If you google "Nail salons near me," Google maps will pull up along with all the local businesses that match the search criteria, along with all the reviews for those businesses on Google. Those with a Google Business profile are listed at the top, like this: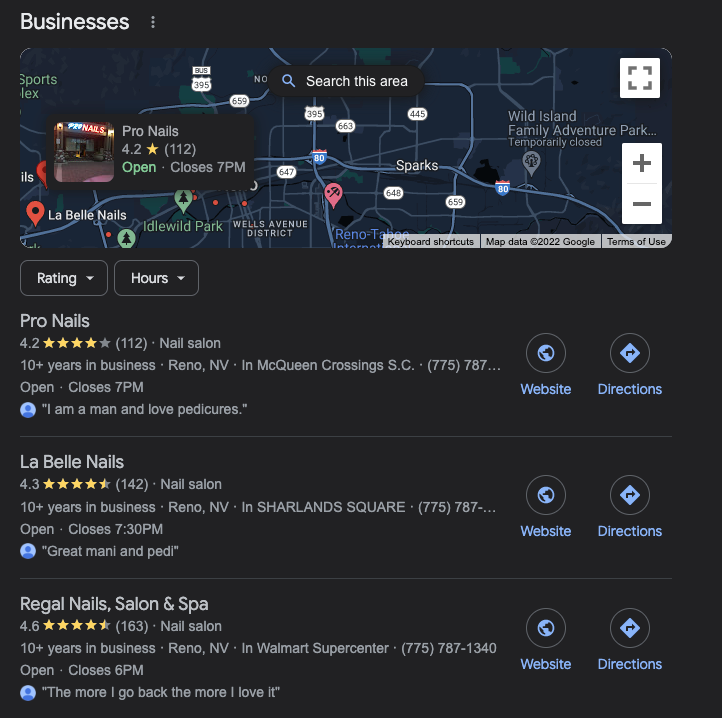 So, if you want to improve your local search rankings it's important to A) have a business profile set up on Google, and B) ask customers to leave reviews.
Reviews play a huge part in buying trends, and because most customers use Google to search for products or businesses, it critical to get customer feedback because good reviews not only help inform other buyers about your product or service, it helps your ranking on Google. In short: the more reviews on google you receive, the more you'll show up in local listings.
Still not convinced? Here are some of the top benefits of creating a business profile:
Improved ranking. Setting up a business profile enrolls you in Google My Business which greatly improves your business's search engine results. Further still, Google My Business is constantly evolving, as is local search as a whole… which is a critical component in today's digital marketing landscape.
Ease of management. Business owners can easily add photos or videos, link to social media, or offer customer's the ability to send direct text messages, and quickly edit their listings' business details… for free!
Improved customer communication. The business profile allows you to sign up for notifications so you can quickly respond to customer reviews, which helps businesses oversee their reputation management and handle any negative reviews fast.
How Do Reviews Help Optimize a Google Business Profile?
In the simplest of terms, with search base marketing and advertising we're trying to tell Google two very important things:
What a business owner does, and
Where the business owner completes their business (if you're a service-based business.)
A strong Google review will accomplish both of these things. But, why does this matter? Well, let's take a closer look:
#1. Customer Reviews Improve Visibility
Effectively utilizing reviews makes sure that a potential customer knows who you are, where you're located, and what you provide. This can be achieved via a few different strategies. For one, there are several different sections on a Google profile that can be filled out, optimized, and reworked. Products come and go, but reviews are one of the few things that persist because it's integral to other highly used elements of Google: including Google maps and Google's search engine.
Obviously, if you already have a good review presence on Google that's a strong point. But what do reviews have to do with actually getting more search visibility?
When someone writes a review about your business, often they reference some sort of service or product your business provided. Additionally, they'll sometimes reference:
Where the live (which aids local search and keywords)
Where your business is located, and (which shows up on Google maps — super helpful for those looking for a local business)
The items or services they purchased (which helps aid conversion to your site or social media pages)These reviews can help other customers during a local search, which specifically helps people find your business and buy your product.
#2. Customer Reviews Improve Local Ranking and Search Engine Results
Google stores all this information in the form of keywords. When a potential customer is online Google tracks all of this data, and ultimately, it becomes a part of the database that the Google search algorithm references. Once the review has been published, arguably, it lives on your Google business profile forever. But, why is this so important?
Here's a few big reasons:
1) The number of reviews and your star rating let other customers know how other shoppers felt about their experience
2) Shoppers can reference your services/products and find where you're located, directly from your Google profile, and
3) Your reviews impact search results and continually improve your rankings on Google.
In a nutshell: the more public insight you can get into your business, the better you'll be able to optimize your Google business profile for the long term, and in turn, the more search visibility you'll receive.
Of course, this also depends on how positive your reviews are. If your Google reviews are generally good, this tends to garner more leads and sales. A negative review could impact your But now the question is, how do you control the amount and the quality of the reviews you receive?
How Do I Get More Reviews?
Ask for them! There are lots of ways you can incentivize your clientele to leave reviews. You can offer discounts or giveaways, or simply send an automated email after a purchase with a link to your review page.
For any business, reputation management is critical. It's a well-known fact in the marketing world that if you ask for reviews consistently and effectively, you're going to have a more positive review presence. When asking for reviews you may also ask if the client or customer can reference the service you provided.
If they're on board, you can count on another review instance for a specific service or product on your Google business, which in turn helps other shoppers get a clearer idea about your suite of offerings.  However, (and this is critical): Don't forget to respond to your reviewers!!
This is where the management aspect comes into play. Whether you receive positive or negative reviews, and no matter if you agree with their assessment or not, responding to your customer base is crucial to your reputation — both online and off.  We encourage businesses (especially small ones) to respond to every single review that's written.
We'll save the nitty gritty details of reputation management for another article but know that responding to the reviews will also further optimize your profile. How? In the same way that a shopper might reference the service and geography in which the service took place, you can now do a similar thing with your responses. The more natural activity that occurs on the Google profile, the better your geography and keyword mentions will perform, which means the better your business profile will perform in local search results.
Summary
This is just the tip of the iceberg when it comes to improving your Google Business Profile optimization. Additionally, reputation management and review monitoring could arguably be a field all its own — in some cases, it is! The information here is simply meant to help you jump start the optimization process.
There are lots of strategies to try, and we encourage you to think of it as a work in progress. But no matter what plan of action you choose to either adopt or skip, just remember to keep your profile as active as possible!
The more activity and the more effective keyword and geography mentions will only further your reach, and ultimately, your conversions.
Looking for help with organic SEO or PPC ads? Our digital marketing partner and SEO/PPC guru, Local Blitz understands this concept like the back of their hand. If you're looking for help with your local search engine optimization or want to dabble in Google Ads (or social media ads for that matter), Nick Bennett at Local Blitz is one of the co-founders and happens to be one of our fav people. Give Nick a shout and tell him we sent you.